Join Bahnhof ST - Internet School!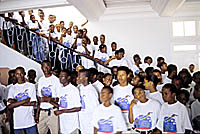 Internet is a window to the world. Are you interested in learning more about other countries and cultures? Do you want to make friends with people all over the world? Would you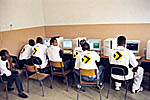 like to learn about computers and Internet? Maybe you are interested in a career as a computer consultant.


Bahnhof ST Internet School is open for students in São Tomé under supervision by Aguinaldo Salvaterra. You will be able to explore the real Internet - high-speed connections and powerful technical tools.


The school is operated on non-for profit basis.

Latest Bahnhof ST installations: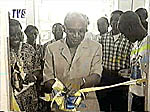 The schools where officially opened under support from the government of São Tomé and Principe and the ceremony was officially supervised by the President of São Tomé and Principe, Miguel Trovoada.


- Island of Principe - Major Internet school opened in Principe with computer classroom. Opened in April 2000.


- São Tomé - São Tomé Internet School (largest in country) opened an advanced computer center connected to the Internet and intended for the students of São Tomé. Opened in July 2000.

Future plans:


Schools in Guadalope and Trinidade.